Business Owners
Solar Energy is a great way for your company or commercial building to save money on energy costs and show environmental responsibility. Going solar allows your business to produce its own electricity and never have to worry about rising electric cost. Additionally, adding a solar energy system increases your buildings value substantially.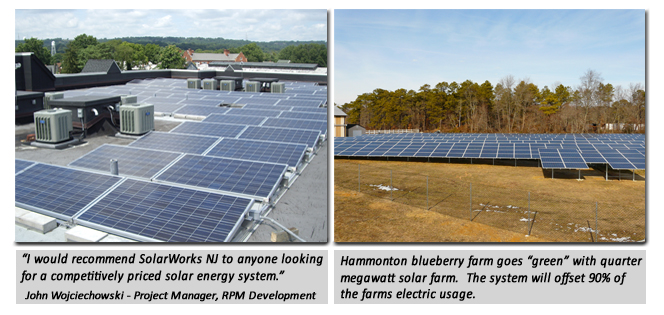 New Jersey businesses have seen electricity rates increase over the last several years. Historically, electric rates have increased an average of 5% per year. Based on this information, projections for the future show this continuing as a trend.
If your business uses a good deal of electricity, then these increases in electricity costs will affect your bottom line. Convert your unused rooftops into a consistent revenue source by installing a solar energy system.
Installing a solar energy system not only delivers financial benefits to your business, but can also be an excellent marketing tool. Promoting your company as "Going Green" can be a great campaign that reaches many environmentally conscious people.
Contact us for a free consultation. We will prepare a solar energy analysis that will provide a detailed breakdown of your buildings energy use, an explanation of the financial projections and benefits, and a complete quotation.
We provide:
On-site analysis to determine the best system

Comprehensive Financial Analysis

Comprehensive Energy Analysis

All NJCEP Paperwork including: Rebate/SRP Application Form & Technical Worksheets
Utility Interconnection

Permit Procurement

Rebate Assignment

SREC Aggregator

6 Year Workmanship Warranty